About Us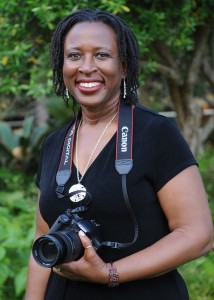 My name is Aderonke Bademosi Wilson – quite a mouthful, most people call me Ms. Wilson or Aderonke. I was born in Bermuda and raised between the island and the UK. I have been interested in photography my entire life. I dabbled in it while in college but became a serious photographer a few years ago. I take my camera everywhere, just in case I see the perfect setting. I'm the one family and friends call on to take pictures at gatherings and family events. Actually, if I'm honest, I don't usually wait to be asked, I show up with my camera and start snapping. There are thousands of pictures I've taken over the years. (It was tough choosing just a few for this website.)
In February 2015, I was certified by the Bermuda Hospitality Institute as a Bermuda Tourism Ambassador and hold the Certified Travel Ambassador (CTA) designation. I also completed the facilitators training which qualifies me to teach the CTA program in Bermuda.
When I'm out and about taking pictures for myself, I tend to explore and experiment with abstract images. Pictures that hopefully will make you pause and say, "what is that?" I'm happy to share some of my pictures with you. Visit www.facebook.com/PicturePerfectTours
I have gathered a small team of professional drivers and tour guides who I work with. We ensure your time with us is second to none and you will leave knowing more about our people and culture. More importantly, you would have captured some dynamic, colorful and beautiful pictures of your time in Bermuda.
Take a Tour Today
Sign up for a tour. We look forward to sharing the beautiful secrets of our island home with you.